Local Communities
LNG Canada is committed to ensuring benefits from our project flow to local communities.
Investing in Our Communities
We value the diversity and rich cultural heritage of our local communities and aim to be the best neighbours we can be, which is why we partner with local organizations to understand and meet community needs.
LNG Canada has invested more than $4 billion in contracts and procurement to businesses in British Columbia, including $3 billion awarded to Indigenous-owned and local area businesses.
Our Commitment to Kitimat and Local Communities
When we started in 2014, we worked together with Kitimat residents and local stakeholders to develop a Community Charter that outlines our commitments. We continue to live by this charter every day.
Our Commitment to Reconciliation
We acknowledge we operate within the traditional territory of the Haisla Nation, and will operate with the expressed agreement of the Gitga'at First Nation, Gitxaala Nation, Kitselas First Nation, Kitsumkalum First Nation, Lax Kw'alaams First Nation, Metlakatla First Nation and Métis Nation British Columbia.
We affirm Canada's Truth and Reconciliation Commission findings that economic reconciliation is critical to true reconciliation including access to jobs, training, and education, and ensuring that Indigenous communities acquire sustainable, long-term benefits from economic development projects like ours.
Our Commitment to the Safety of Indigenous Women, Girls & 2SLGBTQQIA People
LNG Canada acknowledges the potential social impacts large-scale resource development projects can have on communities, and particularly on vulnerable populations, including Indigenous women, girls and 2SLGBTQQIA people. LNG Canada is committed to participating in a cross-Ministry Working Group with the goal of improving safety and well-being of Indigenous women and children in settings of industrial change.
Read Our Full Commitment
Ensuring that Indigenous and non-Indigenous women live and work in a safe, secure and respectful LNG Canada environment.
Creating a diverse, inclusive and welcoming work environment for all people working with our project. We incorporate Indigenous knowledge into all aspects and stages of project planning, assessment, implementation, management and monitoring, paying particular attention to the safety and well-being of vulnerable members of Indigenous communities.
Incorporating input and feedback from Indigenous and non-Indigenous women working in the trades into the design and operations of Cedar Valley Lodge, our workforce accommodation centre. We have listened to and learned from the experience women have had in the past, to inform the design and supports required to provide safe and secure living accommodations. We maintain a respectful workplace and enforce zero tolerance of harassment, hazing or bullying of any kind.
Listening to and learning from the experience of Indigenous women, girls and 2SLGBTQQIA people to ensure LNG Canada takes into account and addresses their concerns for safety and security.
Sharing value with Indigenous communities impacted by the development of LNG Canada. This is a core principle that underpins the development of our project. We are committed to ongoing collaboration with Indigenous communities to ensure this mutual benefit continues throughout the life of our project.
Removing barriers to Indigenous women's participation in the workforce. LNG Canada continues to work closely with Indigenous groups to ensure that education and training programs support the development of a diverse and inclusive workforce. We will engage in ongoing consultation with Indigenous communities through the life of the project, to better understand, address and remove barriers to equal participation.
Developing and continually monitoring a detailed social impact management plan that anticipates and acknowledges demands on social infrastructure from Indigenous communities impacted by our project, and that identifies measures to minimize those impacts.
Opportunities for Community Investment
We value our local communities and we're always excited to give back to ensure the growth and sustainability for all residents. We invest in programs related to workforce and enterprise, environment, community wellness and education.
Close
Community Feedback
Please share your feedback about our community events or any other concerns you may have about the project.
News & Stories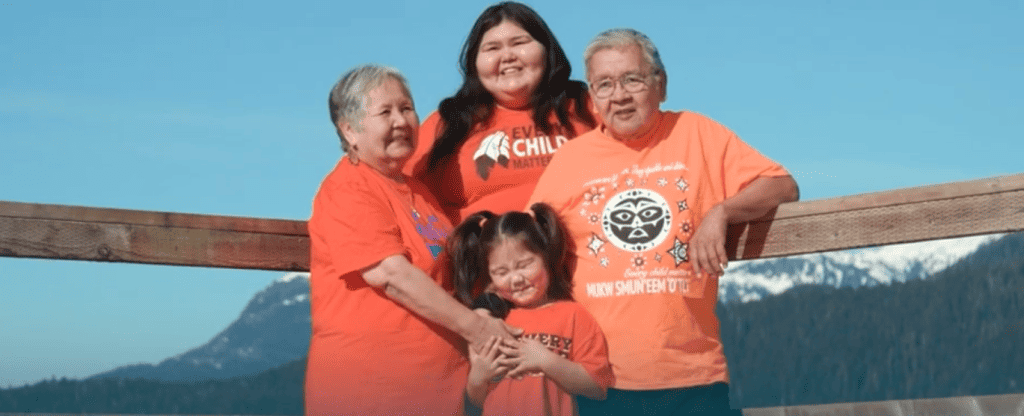 Celebrating National Indigenous History Month
Across LNG Canada, we celebrate National Indigenous History Month and recognize National Indigenous Peoples Day
Creating Opportunities for B.C. Communities
Supporting communities in British Columbia is at the core of LNG Canada's vision. We're pleased to announce two new contracts awarded locally.
A Gitxsan Masterpiece Comes Home
Recognition ceremony marks unique collaboration between artist's family and LNG Canada
Kitselas First Nation: Working Together to Create Opportunities
We recently spoke with Chief Councillor Glenn Bennett, and members of the Kitselas First Nation about the positive changes they are seeing in their community and the opportunities being realized. Watch to learn more.
Shames Mountain: Enhancing Accessibility
Shames Mountain Ski Resort is an important resource for the local community and for northwest BC residents.
That's why we were pleased to provide $75,000 towards a new conveyor lift to enhance accessibility at the ski hill. Watch to learn more.